It's officially Spring, and new leaves are starting to show around Colonie EMS.

Congratulations & Best Wishes!
First and foremost, Assistant Chief Paul Fink is retiring after 40 plus years of service with the Town of Colonie. Since 1975, Chief Fink has been providing Advanced Life Support (ALS) in Colonie. Throughout his career he has also worked locally with Guilderland EMS, the Regional Emergency Medical Organization (REMO) and the New York State Department of Health. Chief Fink is also a member of the NYS Division of Homeland Security Urban Search and Rescue team and served at Ground Zero after the terrorist attacks of 9/11. He is currently a life member of the Latham Fire Department as well. Always on duty, one of his many accomplishments was earned while dining with his wife.  He was able to save a choking mans life,  earning him the REMO provider of the year award in 2014.
Since being one of the founding members of Colonie EMS in 1989, he has been involved in the Albany County hazardous materials team, NYSP Lifeguard Air Rescue Program as well as all the specialty rescue programs the EMS department participates in. His most recent efforts included helping organize the departments Tactical Medic program. In his spare day to day time, his responsibilities included managing the ambulance fleet, and ensuring the EMS department had all the supplies and equipment, from band aids to life saving medications, it needed to run smoothly.
We wish Chief Fink a long and happy retirement with his wife, he will be missed!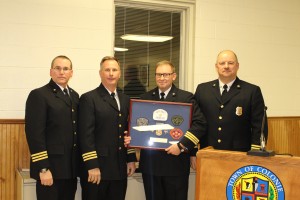 We are also wishing well to Paramedic Robert (Bob) Elling, who is retiring. Bob has been a paramedic since 1974, and shortly after began working with NYC EMS. In 1988, Bob was on the task force that was formed to create the system we now call Colonie EMS. He was a member of West Albany Ambulance and Colonie Village Ambulance before joining Colonie EMS in 1992. In 1993, Bob became a flight medic here in Colonie in conjunction with the NYSP. If you know any EMS providers locally, there is a good chance Bob taught them at HVCC or they used a book he wrote to study; Bob has written an incredible amount of EMS education books over the years, and continues to do so. He is a proud and long time member of the American Heart Association serving on Regional, State and National faculty levels within the organization.
It has been an honor to have Bob here for so many years, and he will be missed. We wish you and your family all the best!
Promotions
Congratulations to Captain Christopher Kostyun for his promotion to Assistant Chief! Chris joined CEMS in 1989, a year after he became a paramedic. He is a graduate of RPI with a degree in Computer Science. Chris also was a member of the West Albany Fire Department as well as Deputy Chief of Shaker Road Loudonville Fire Department from 2004-2005. Chris has been a Captain since 2003, and is looking forward to this new endeavor.
Congratulations to Paramedic Christopher Rench on his promotion to Captain! Chris began his career with CEMS as a volunteer EMT in 2004. He is a graduate of the HVCC Paramedic Program, Memorial Hospital School of Nursing, and became a fulltime paramedic in 2006. Since then, Chris has become a CPR and ACLS instructor for the department and has been a flight medic since 2011. He also serves on the paramedic program faculty for SUNY Cobleskill.  For several months, Chris had been temporarily filling in as a Captain, however he is now officially permanent.
Welcoming our new Paramedics!
Congratulations to Paramedic Adam Patterson on being promoted from part time paramedic to full time paramedic! Adam graduated from the SUNY Cobleskill Paramedic Program in 2013, and has been working all over the Capital Region since then. He was hired with Colonie EMS in 2014 and we are happy to have him here full time now. Adam also is a graduate from SCCC with an Associates Degree in Fire Protection.
We are happy to welcome several new providers to the Colonie EMS family as well!
Tim LeBlanc is joining us as a part time paramedic. Tim is a former CEMS explorer and has been a paramedic since 2009. Since then he has been working as a paramedic at Greenport Rescue and Air Methods. Welcome Tim!
Robert Potter is joining us as a part time paramedic. Robert has been involved in EMS and fire services for 28 years. He has been a paramedic since 2004 and is currently a firefighter in the City of Albany. Welcome Robert!
Hayley Smith is joining us as a part time EMT. Hayley is a life long resident of Colonie and graduate of Siena College. She has been an EMT for 3 years and currently works at AMCH and Mohawk Ambulance. Welcome Hayley!
Bryce Foggo is joining us as a part time EMT. Bryce also grew up in Colonie and is a graduate of Hobart College. He has been an EMT for 3 years and currently works at AMCH and Western Turnpike Rescue Squad. Welcome Bryce!
Andrew Cohen is joining us as a part time EMT. Andrew is a life long resident of Colonie. He is a graduate of Siena College, retired Menands police officer after 20 years and former Menands Fire Chief. He is currently a volunteer firefighter for Midway FD and is an EMT graduate from the most recent EMT class offered by CEMS. Welcome Andrew!
Samantha Sullivan is joining us as a volunteer EMT. Samantha grew up in Colonie and is a graduate of Maria College. She has been an EMT since 2015. Welcome Samantha!
We look forward to continue to grow and evolve as an agency to better serve not only the community, but our members as well.
As always, be well and be safe from our family to yours!